Living in a beautiful place like south east Queensland Many choose an outside Wedding venue for the Ceremony. I have over the years seen some truly breath taking places to get married. I am really not sure how I would make the choice myself when that decision day arrives for me

One of my "7 Hints and Tips to your perfect Wedding Ceremony" topics that you can get Free from my Website is, how to choose your Wedding ceremony venue.
Here I want to talk specifically about Beach Weddings and share with you some things to think about when planning a beach wedding ceremony.
Things to Consider...
Firstly ask yourself, why do I want a beach ceremony.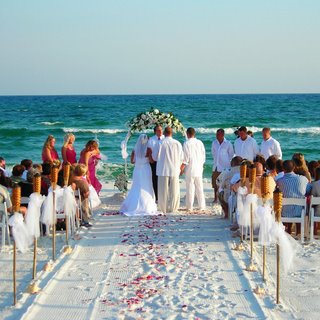 Do I want a beach wedding for the views, the sun and the calmness of having the water close by but don't like the idea of the sand getting into everything? If the answer is yes then think look for places where you can have the view without being specifically on the Sand, there are plenty of places along the coast that are perfect for this.
If you specifically want to be on the sand, you can certainly have your perfect wedding you just need to keep a few things in mind.
I would recommend you make sure you have a backup plan that you love just as much in the case of high winds.
With high winds, the vail can be difficult to keep in place however if you plan to have your brides maid nice and close this potential problem can be solved by simply talking beforehand about support in the event of this.
With high winds you may need to look at not having a microphone as in some cases you will hear the wind through the mic and not the words. This can be solved with ease by having me stand with my back to the wind so as to protect the mic from the Wind. In this case it could mean that once arriving at the ceremony venue on the Wedding day the way in which we plan to face can change. WE also need to make sure the music is played so that the wind blows the sound towards the guests and not away.
Shoes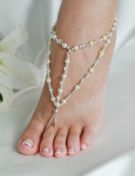 Shoes are also a little difficult on the sand however brides and bridesmaids don't always like the idea of no shoes, there are lovely Bearfoot Bridal Sandals you can purchase, that match and then change into formal shoes for the reception.
You may like to look at having two different dresses and leaving enough time between the ceremony and the reception to change into in the event that during the ceremony and or photos you get sand in your dress. Being a lady myself I just don't know I would want to have sand in my dress all night but of course this is very personal. These are just things to think about.
Decorations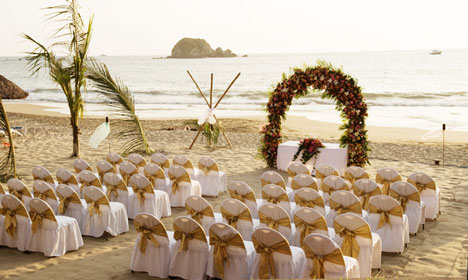 If you are going to have decorations at the beach I highly recommend having a professional take care of this as they will have had lots of experience and will be able to make sure all is taken care of without you having to worry about it.
There are other things to consider also and when working with myself as your celebrant for your ceremony we will go into detail about these and any other considerations to make sure it is as perfect as possible on the day.
Wishing you a magical Wedding day perfect just for you
With warmth
Andrea