Testimonials
Being a celebrant over the past 9 years has touched me in so many ways.
I am so very proud to be able to share with you some of the wonderful comments and emails I have received over the years.
I have highlighted some of the lovely words that have warmed me to receive. I am truly blessed in being a part of so many wonderful special occasions.
I hope you enjoy reading what others have had to say about their special day.
Dear Andrea
We wish to formally thank you for officiating our marriage at Joncia Gardens, Logan Reserve on Saturday, 15 December 2012. You were professional, friendly, organised, punctual, patient and most of all had a great sense of humour which is of paramount importance when dealing with our families! 
Thank you also for taking the time at our ceremony rehearsal to ensure all persons with a role to play in the ceremony were confident in what they were required to do on the day.
We received feedback from many of our guests and bridal party members with regards to the wonderful way in which you conducted the ceremony. We will be recommending you to any family and friends who may require the services of a marriage celebrant in the future.
 Thank you again for making our big day that little bit extra special.
 Wishing you and yours a very merry Christmas and a happy new year.
Warm regards
 Mr Anthony & Mrs Sarah Ketland
Joncia Gardens, Logan Reserve on Saturday, 15 December 2012
Hi Andrea,
I hope that you and your family had a marvellous Christmas and New Year!
We have recently returned from our honeymoon at Hamilton (which was absolutely amazing!) and I wanted to write to you to give you my sincere gratitude for everything you have done for us for this wedding. I feel very lucky that we were able to have you be a part of our wedding and have you as our celebrant. Throughout the whole process you were very helpful, considerate, kind and you made it completely stress free for me (which I am very appreciative of!)
I had so many family and friends comment on how incredible they thought you were and how it really made the ceremony personal. Throughout this whole process you have been amazing and on the day you were just as fantastic and I really cant thank you enough. I will be forever grateful for you being a part of our day.
Our whole entire day was absolutely perfect. I was (and still am!) overwhelmed by how perfect and successful our wedding was. I could not have dreamed up a better day and I know that you are a big part of that success.
It is so nice to have met you and gotten to know you. The passion you have for your job is what I think makes you amazing at what you do.
I have finally been able to look through the envelope of documents and will be posting you the feedback form and authority back shortly

I should get the professional photos back within the next few weeks and I will send them through to you!
I hope that 2013 is full of happiness and you enjoy the year ahead. I will speak to you soon

Kind regards,
Emma xx
Andrea,
I apologise that it has taken so long to get around to doing this.
We wanted to say a massive thankyou to you for being a memorable part of our wedding.
Your calm nature and professional friendly approach added a beauty to our wedding that no one else could have.
We know we asked a lot of you by including Shannon so much in the ceremony but you took it in your stride and did a sensational job.
On a personal note having you there waiting with me at the venue was great I was so nervous and you reassured me that it was all going to be ok and to just enjoy it and I did so thankyou.
In short your Awesome thankyou. I look forward to you doing our christening at some point in the future.
My only regret for the day was not having you at the reception
Thanks Again
Aaron and Bindi
Hello Andrea,
Thank you for the ceremony it was great! The day and ceremony went really well and our guests loved it.
So we thank you a great deal as you were a big part in our day being such a big success!
Thank you
Glen and Kathryn
Hi Andrea,
Ben and I wanted to say a BIG thank you for marrying us on July 19th.
You were such a pleasure to work with and we both enjoyed seeing a friendly familiar face to help us through the ceremony nerves.
Many people commented on the vows, saying that the words we chose reflected what they saw marriage as representing also, which is definitely not something we could have done without your guidance.
We were also hoping you had received the wishing well that was dropped off on the Monday following the wedding.
Again a big thank you for letting us use the wishing well, as well as the signing table and pen.  All those little gestures made the day as magical as it was.
Anna and Ben J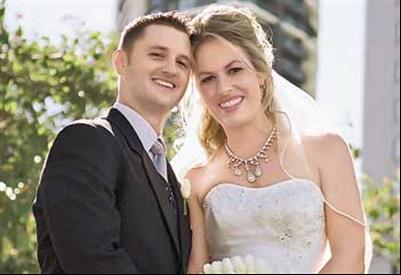 Hi Andrea!
We just wanted to thank you for the wonderful wedding ceremony that you performed for us on Sunday, 6th May.
Thank you for your professionalism & for helping us to create a beautiful ceremony.
We received so many comments about how personalised & beautiful the ceremony was!
I was shaking like a leaf - not because I was nervous about marrying  Simon - but because I realised what a big occasion it was when I saw all the people there!!
But your calm manner helped me to relax & I really appreciated that.
We are so pleased that we chose such a friendly & courteous person to carry out our ceremony. We will definitely recommend you to any friends needing a celebrant in future.
Thanks again!
Regards,
Cindy & Simon Frappell
Hello Andrea,
Mark and I would like to thank you for the beautiful service.
We had a great day and we are glad that you could marry us.
I hope that you enjoyed the piece of cake and chocs that we left in the wishing well.
Thanks again
Kylie & Mark
Hello Andrea,
Luke and I would like to thank you from the bottom of our hearts for conducting our ceremony yesterday.
You made us feel so relaxed and did such a wonderful job. Our day was absolutely perfect, and far exceeded our expectations.
We couldn't ask for a better wedding day.
Thank you for everything!!!
Warmest wishes
Mel & Luke
Thanks Andrea
For being our Celebrant our day would not have been complete without you.
The ceremony was just beautiful
Stacey and Luke Dutson
Hi Andrea,
Sorry all you paper work hasn't arrived yet. i have been very very slack. it's on its way in the mail as we speak.
I just wanted to say a special thankyou to you personally for all that you did for us at the wedding. when i say that the day wouldn't have been the same without you,
i really do mean it. i don't know how you manage to stay so calm all the time and make others feel at ease  along with you.
it is a truly great asset and one u should be very proud of. on the day when we arrived and you came and got in the car with us i thought i was going to be sick with worry and nerves but you still stayed completely calm and together.
You told me everything was going to be fine ... and i believed you.
You will never know how much that meant to me and i can't thank you enough.
Adam also thanks you. he knows how my family have the ability to stuff up everything and how they effect me while they are doing it. he says that anyone who can stop that from happening has "got to be a good sort". so again many thanks.
Good luck in the future,
Adam and Andrea South
HI Andrea,
Derek and I just wanted to thank you.  You did the most amazing job as our celebrant, we couldn't have been more happy.
You have been fantastic and so helpful throughout the entire process.  It's a shame that it's all over now.  We will definitely be using your services in the future for any naming ceremonies.
I can't speak more highly of you, we were so impressed with the job you did and I will recommend you to anyone I know that gets married.
Thank you again for playing such a huge part in our wedding day and making it so memorable.
Kind regards
Derek & Eden Davies
Andrea
We thought you were Professional, at the same time very warm and sincere with a good sense of humour  that we were looking for.
Thank you so Much
Joe and Jo Coutts
Even with the fast acquaintance and extremely short time of Notice you did an excellent Job!!!
Being foreigners you welcomed us and make us feel good and confident with you.
You took the time with helping us and letting us understand Australia and it's marriage laws.
The ceremony was perfect and you looked great
Thank-you!!
Josh and Lacey Roch/Mayborn
Andrea
We Loved the fact that you were younger, we felt that this was one factor that helped us to choose you.
Your were always friendly and helpful without being patronising, this added with a sense of humour made our day very special.
Everything was organised, clear and detailed which made the ceremony run smoothly
Thank you for everything.
Ann-Marie & Paul McDonagh
Dear Andrea
Thank you for all your help in planning our ceremony, it is one that we will hold in our hearts forever.
You went out of your way to make our day special and unique to Michael and myself, you helped us personalised our ceremony from our vows to our dove releasing.
Our friends and family have also commented on the ceremony saying it was beautiful.
We would also like to thank you for guiding us through the ceremony, as we didn't have a rehearsal, you make the whole ceremony run smoothly.
You are a beautiful person and great at your job, so thank you!
Yours sincerely
Kylie and Michael Davidson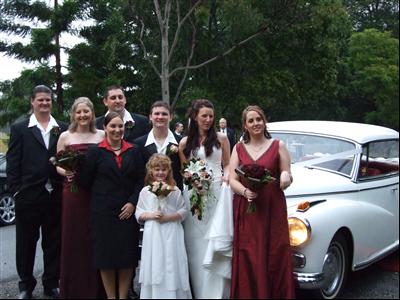 Dear Andrea
You married us in May of 2008 and I'm not sure that we thanked you properly for what was truly a beautiful and unforgettable day (with a few giggles)!
You'll see from the photo that no matter what we say to encourage couples who are trying to choose the right wedding celebrant for their big day, that you are clearly the best choice.  
For an update, Anthony and I are still happily married with two gorgeous little girls. We'll be forever grateful for your help, guidance and brilliant style.
Many thanks
Amy and Anthony Hands
Hi Andrea,
We just wanted to tell you how great you were as our celebrant.  We couldn't have picked anyone nicer or more helpful.  You were always so calm and lovely to speak to.
You helped make our day fantastic and memorable and we can't thank you enough.
We also had a lot of great comments from our parents and guests as to how wonderful you were.
Thankyou for everything.
Jason and Peta
Hi Andrea,
Andy and I would like to thank you for our awesome wedding ceremony - it was painless and oh so exciting!!
Thanks for your help and I look forward to seeing you with Maleeshas wedding xoxoxoxxo
Lynda Jean Cook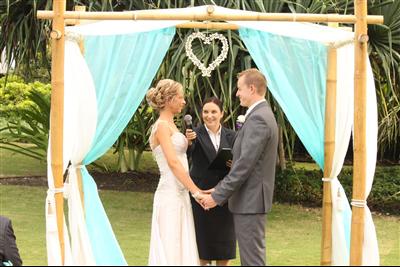 Andrea
Hope you are well.
Now we are back from our honeymoon we just want to say thank you for your special contribution to our perfect day.
Thank you for your help and for your professionalism.  The ceremony was a very important part of our day and it was perfect and very moving for us all.  Could you tell?  ha ha.
It went all so quickly but we definitely enjoyed the moment while it lasted.  We look forward to seeing the footage from Geoff when its ready.
I have recommended you to many people and I know the Beautiful Beach Wedding ladies would love to work with you again.
I also wanted to share some awesome photos of you in action
Thanks again
Mr & Mrs Koplick
Hey Andrea,
Joel and I just wanted to say thanks for everything that you did to make our wedding day special. We are so glad that we choose you as our celebrant! Thanks for keeping us both calm and talking us through it all.
Thanks
Nicole and Joel
Hi Andrea,
How are you?
I finally have the chance to email you to say thank you so very much for being our celebrant and being a part of our magical day.
We absolutely loved our wedding day and couldn't have wished for a more gorgeous and perfect day.  
You were absolutely wonderful and made our ceremony the beautiful ceremony it was.  
All our friends and family commented on how lovely, touching and personal it was, they thoroughly enjoyed it and alot of them said it was the best ceremony they had witnessed, which was lovely to hear.  Wish I could go through it all again in slow motion.
I will definitely be referring all my friends and family to you if they need a celebrant in the future.
Matt and I thoroughly enjoyed our meetings with you prior to the wedding and seeing it all come together, it was all fantastic.
Thought I'd send you a few pics of our special day, we will be receiving all our professional photos very soon! Very exciting.
Keep in touch, much love
Heidi